Operational Labour Planning
Trying to work out staffing levels on any given day and how to avoid the under utilisation of equipment are major challenges that are constantly faced and which are exacerbated by vessel delays, bad weather and schedule alterations. Any or all of these factors can result in unexpected overtime and the eployment of extra staff to deal with the fluctuating workload. Such complexities almost demand a planning tool that can react immediately to changes, allowing better work planning in keeping with workplace egulations.
With Rostima's software, once a pattern has been agreed, the
system can, on a monthly, weekly or daily basis, efficiently allocate
the best resources to tasks taking into account union agreements,
fatigue rules, health and safety, operator skills and security matters.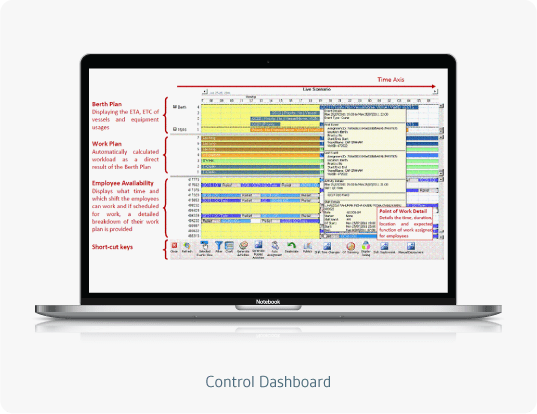 Labour Dispatch & Allocation
Ensuring that terminal personnel are properly qualified for their respective task to use equipment, that they are complying with trainer and refresher courses, licence renewals and legal requirements for rest periods and terminal regulations, can be difficult and time consuming to track. Rostima's software handles all these variables efficiently and accurately in a graphical and easily understandable format that is intuitive.
Rostima has an advanced relief algorithm that enables the planning of rest breaks and reliefs during the daily operation to be optimised.
Furthermore, Rostima offers two intelligent methods of deploying
Heavy Machine Operators that require planned relief breaks to ensure safety and high sustainable performance of employees.
Normal Relief
This method mimics the current practices of labour controllers by combining heavy equipment into a pool and distributing sets of equipment to employees in fixed ratios with fixed break times. To use, simply define the ratio of equipment to employees and the maximum operating time allowed i.e. 3 for 2, Max drive time of 4 hours.
Advanced Relief
This method takes the actual operating time of the equipment into account and attempts to match the relief breaks of the employees with the down time of the equipment. This results in a much higher
utilisation of employees and reduced head count with a proven reduction of around 10% against raditional relief methods.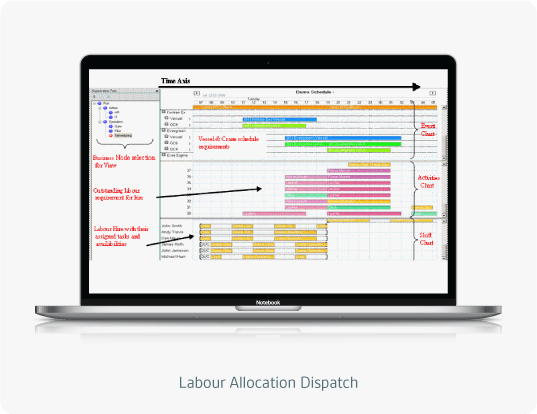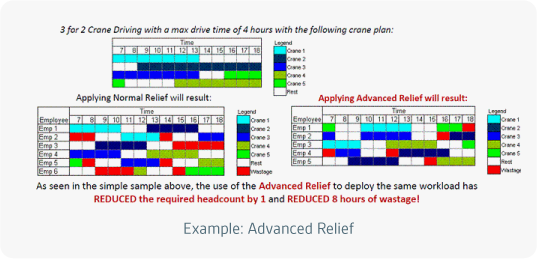 Time & Attendance/ Timesheet Management
The Rostima system aims to effectively manage time and significantly reduce costs. Attendance management of staff through the use of biometric and access control devices, self sign-in or manual timesheet entry matches manpower to points of work/machines based on real time information, thereby reducing times of completing operations.
The solution includes the ability to see the impact of shift premiums and incentive payments in addition to summarisation and integration with payroll.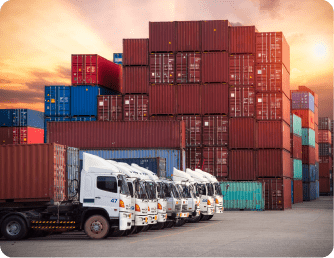 Employee Leave Management
Automated leave planning, roster communication and notification through kiosks or over the internet.
The functionality has been designed with the aim of significantly reducing the management burden of dealing with employee requests manually and making the scheduling process more transparent to the workforce. All request/changes made by the employee can be electronically sent to and authorised/ rejected by management, or can be authorised/rejected automatically by the system based on configurable business rules.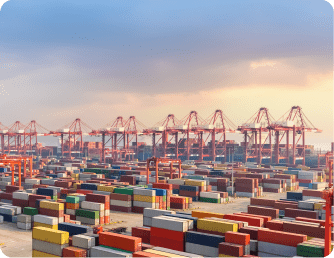 Back to Aviation Solution