Tambla acknowledges the Traditional Owners of Country throughout Australia and recognises the continuing connection to lands, waters and communities. We pay our respect to Aboriginal and Torres Strait Islander cultures, and to Elders both past, present and emerging.
Why we developed a Reconciliation Action Plan
Our team have a genuine commitment to reconciliation, and we believe in turning our good intentions into actions. So, we are very proud to present our first Reconciliation Action Plan (RAP) as we strive towards a reconciled and equitable Australia.
With our RAP, we intend to improve relationships, show our respect, and provide opportunities for Aboriginal and Torres Strait Islander people as colleagues, stakeholders, clients, job seekers, and the community.
Our RAP
We are proud to join a long list of companies, from around Australia, in their formal commitments to reconciliation.
There are four levels to a RAP, including Reflect, Innovate, Stretch and Elevate. We have begun the Reflect phase of our RAP, beginning our journey and creating a foundation for future initiatives.
As an already inclusive business, Tambla welcomes people from all walks of life and our leadership team is supportive of our efforts to represent Aboriginal and Torres Strait Islander people within our business. The purpose of our RAP will be to support Aboriginal and Torres Strait Islanders economically and socially through procurement, employment and partnership initiatives as well as through social awareness and connection. Through these initiatives, we aim to build on our culture of respect and diversity while embracing the rich cultures of Indigenous Australians.
Commissioned Artwork
Our RAP artwork, named Baayanya, was created by Brad Hore. He has commissioned individual artworks for universities, businesses and families, creating each piece to tell a story unique to the owner, business or community.
The title of our artwork belongs to the Dunghutti language, part of the Yuin-Kuric language family. The Dunghutti are First Nations people from the Macleay Valley in Northern NSW.
'Baayanya' means to release, let go, and trust. When we do these things, we open ourselves up to growth. Our artwork shows how Tambla connects people with innovative solutions and creates trust between companies and clients.
Smoking Ceremony
On Friday, the 18th of February, our leadership team attended a Smoking Ceremony in a park adjacent to our North Sydney office. We broadcast the event to our teams working in the UK, Melbourne, and other parts of Australia.
Laurie Bimson, a Guringai man, led the ceremony on our behalf and educated us on its meaning along with historical and recent stories. The smoking ceremony is an ancient and contemporary custom that involves smouldering native local leaves to produce smoke. This herbal smoke is believed to have both spiritual and physical cleansing properties for the area where the ceremony is conducted and for those people present.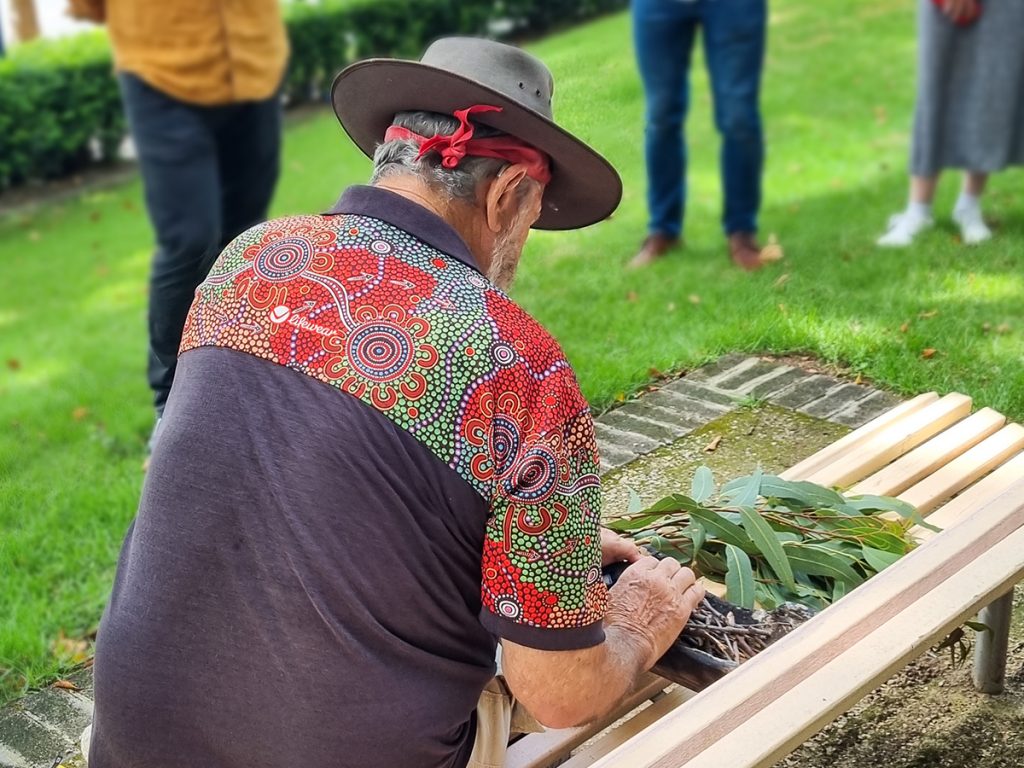 After the event, we hosted a morning tea in our office, where the team spoke to Laurie about his background and experiences with the land and country.
You can learn more about our RAP here.