It is easy to lose sight of priorities in a world where technology saturates business with analysing targets and goals to ensure workforce planning. It is essential for management to prioritise the needs and goals of the organisation. Workforce planning is instrumental to a business achieving its legislative, regulatory, and production requirements. So, why is this movement so crucial to adopt? Well, according to various research, one in five people will have an artificial intelligence co-worker by the end of 2020.
Artificial Intelligence (AI) is a new employee in the office
The world is changing, and technology is evolving at a rapid pace. Organisations that fail to keep up will be left behind. Digital assistants can now complete tasks that employees completed in the past. AI is becoming more advanced, and HR leaders and management will harness it to create personalised and memorable employee and customer experiences.
Customers are already receiving the benefits of AI, as company's start leveraging chatbots for personalised responses. However, this personalisation will join employees in the office, as chatbot interactions will redefine barriers of communication through the transformation of employee engagement channels.
Here are six trends for AI in the workplace:
Humans will work together with AI
AI will soon become the new team member, employed to cover mundane and repetitive tasks so that employees can concentrate their efforts on higher value items that involve critical thinking and creativity, all unique human qualities.
AI will bring a new meaning to talent acquisition
One notable way that AI is transforming the workforce is the way prospective employees can use machine learning to personalise their job search. In the same regard, companies are also able to source and hire new talent under specific criteria.
Machines will help employees navigate their careers
Growing with a company and gaining experience in different fields is crucial to stay ahead of the times. Career growth is possible through machine learning. Creating internal career mobility platforms assists individuals with navigating their career growth.
Enhancing employee Communication through AI
The majority of HR leaders found their employees were comfortable accessing information via chatbots, as opposed to the traditional methods of face-to-face communication. In the future, chatbots may be a high-ranking member of the HR team.
Leadership ladders will evolve as AI moves into management
With the progression made by AI in the workforce, it is clear why AI is moving into management roles. AI can assist with a wide range of tasks, from organising meetings to improving the writing requirements of job descriptions.
Creating new roles through the use of AI
AI is on the rise, and by the end of 2020, it will create 2.3 million jobs. Teams and organisations need to stay abreast of the current trends if they are to keep up with the technological movement.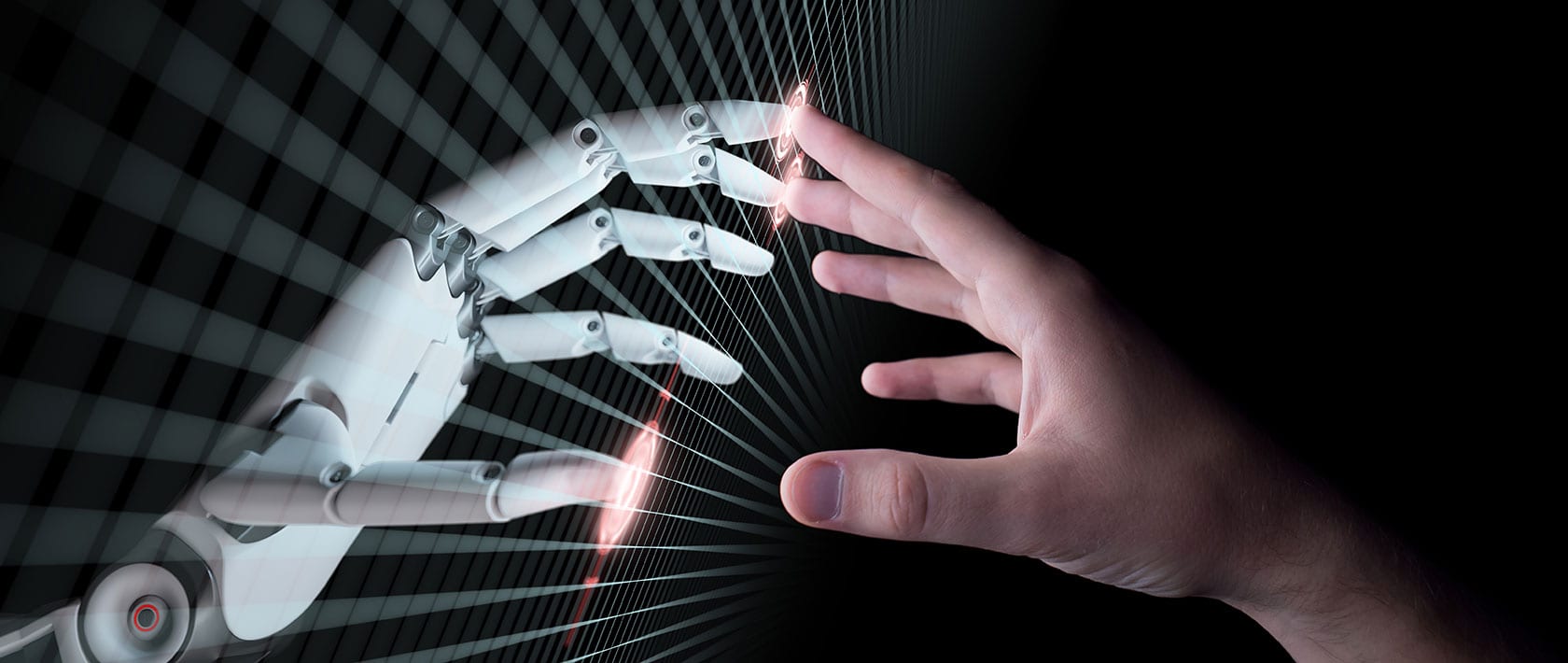 What impact will technology have on workforce management
With the increase in technological advancements, the ability to challenge beliefs and assist management teams with complex decisions has surpassed expectations. Technology is omnipresent, and individuals need to adjust the way they do things to become future-ready.
With future trends automating jobs and increasing the amount of AI within organisations, business leaders must have a holistic view of employees' tasks and how it will change the nature of their work. Technology can automate up to 45% of jobs that were initially performed by humans. All occupations, high and low, will be impacted drastically through technological advancements.
Companies need to identify future gaps in their workforce and predict future needs. You can do this by:
Understanding that the workplace is changing
It has become essential for management and HR to create stimulating work environments to retain employees. Nowadays, individuals no longer join companies for life. Management teams need to ensure they attract employees through personal development.
Examining your current skillsets
Look at your employees and their different skill sets. Assess what skills will be made redundant within the next two years. Once done, you can begin to train and upskill your current employees. Remember, technology does not exist to ruin jobs; it is meant only to change roles and assist in making our lives easier.
Bringing in new talent and ideas through assessments
Current employees will grow when given a chance. It is crucial to look at how management teams can align their employees with the goals they would like to achieve. Tracking employees' digital footprints through psychometric testing and personality tests is helpful.
Being aware of technological advancements and how to adapt and secure your company with the coming changes is a critical element of prioritising employees' cognitive, social, and emotional skills.
Will demand in workforce skills shift?
Workers have been adapting to different skillsets since the Industrial Revolution. The need for technological, social, and emotional skills has become imperative with the increase in technological advancements. The necessity of these skills makes it essential for employees to deepen their current skillsets and learn new ones. Organisations need to rework themselves in line with contemporary technological movements.
Over the next fifteen years, AI and automation will increase dramatically. The effects will bring higher productivity levels, growth, and improved employee performance. Despite these numerous benefits, the skillsets of employees will have to change. The demand for technical skills, programming skills, as well as leadership skills, like emotional and social skills, will become more pressing as each year passes heading toward 2030.
Individuals will need to learn how to innovate, develop, and adapt to advanced technologies. Higher cognitive skills, such as creative thinking, decision making, and processing of information, will also be in demand. In contrast, the need for physical and manual skills will decline.
The demand for workforce skills will shift at an alarming rate, as seen in the following three sections:
Nurses and doctors will increase in the healthcare sector. However, the demand for office support staff will decrease with technological advancements.
The most significant decrease of manual labour will be within the manufacturing industry through the adaption of human-machine collaboration.
The retail sector involves manual labour from drivers, packers, and shelf stockers. These roles will decrease as smart automation, and AI continues to reshape the industry.
Humanising the workplace is key
With the continuous shifts in workplace dynamics, focusing on humanity and inclusion in the workplace has become crucial. Culture and understanding must coincide and become the main focus for business leaders.
For companies to thrive, managers must treat their employees like people. Employees desire recognition, acknowledgement of their contributions, and validation. Companies that give this to their employees have benefitted from significant increases in sales and profit. Businesses that foster humanity create a workplace that fuels employees. When employees are encouraged to speak up they are usually more productive as they feel like they belong, and the strong sense of belonging assists in a company reaching new heights. Acknowledging different options and thoughts, regardless of race and culture, is fundamental in engaging employees while enhancing your company's reputation and brand.
Creating a solid human experience foundation within your organisation can assist in helping employees feel motivated and comfortable in their jobs. Keeping employees happy and recognising good work creates positive experiences for individuals, making them less likely to want to leave.
Companies can focus on six main things to catapult their businesses towards long-term growth:
1 – Providing continuous feedback to employees.
2 – Rewarding employees for good work.
3 – Engaging teams.
4 – Empowering and inspiring employees.
5 – HR driving the human experience by creating positive experiences for employees.
6 – Treating employees as individuals.
Technology is the vehicle; humans are the drivers
The working environment is changing dramatically with the introduction of AI, digital platforms, and other innovative platforms. If you are feeling anxious about these shifts, you are not alone.
Reluctance over these changes stems from several concerns, including employment and underemployment, or stagnating incomes.
One must bear in mind that due to automation, the nature of work will change. On one side, many of the manual activities have the power to be automated. On the other hand, social media sites such as LinkedIn and Monster are assisting individuals who are looking for work and providing hiring managers with additional means of searching for potential candidates for jobs. Also, the hiring process can go faster thanks to screening algorithms, where individuals can match people to their correct potential roles meaning an increase in productivity. So, technology is a vehicle that can help labour markets.
There is an expectation for new forms of entrepreneurial activity with the rise of technology. Knowledge enabled jobs will form a new category that less skilled workers can access training through technology.
To successfully embrace technology as well as the changes that come with it, consider the following:
Evolve education systems to teach and improve aspects such as STEM skills and systems thinking.
Support training in companies to fill gaps in technological knowledge.
Invest in human capital by treating it like other capital through incentives.
Enable digital infrastructure by exploring public-private partnerships.
Examine incomes and implement social safety nets and a universal basic wage if there is a decrease in employment opportunities due to automation.
Embrace technology-enabled solutions.
Embrace new forms of entrepreneurship, focusing on job creation.
Innovate how humans work alongside machines by increasing their skillsets.
Capture the productive benefits of technology.
The workforce is a vital and tangible aspect of all organisations. Ensure you plan, measure, and optimise your workforce planning as this will enable you to focus on the crucial elements needed for success.  Tambla can assist in helping you plan the workforce of the future. To learn more, visit https://www.tambla.com.au/solutions/workforce-planning/.